Castlemaine Smallgoods Factory Expansion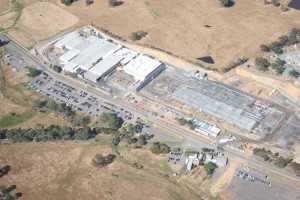 George Weston Foods operated smallgoods plants in Altona Victoria and Spearwood Western Australia, when they acquired the KRC plant in Castlemaine Victoria.
The project involved consolidating the three plants into one at Castlemaine, and providing dedicated facilities for Ham, Bacon, Smallgoods and Salami, with a projected capacity of 2,100 tonnes per week.
The building expansion of approximately 25,000m2 provided central robotic palletising and an automatic guided vehicle transport of finished goods pallets along a segregated transport corridor to one end of the site.  Pedestrian access was at mezzanine level to separate forklift traffic and pedestrians for improved safety.  Load in and load out docks were concentrated at one end for improved heavy vehicle access and safety.  The mezzanine level corridor also contained air conditioning and switchgear.
The trade waste system separately captured: high salt burden waste, caustic smoke house washdown, and general waste.
Meateng developed the concept design, initial building structural concepts, process layout, services spreadsheet, engineering budget, and project staging.  Wiley undertook detailed building design and construction, and services installation.  George Weston Foods managed equipment installation.
Design and construction services EU standard Lamb Processing plant
Start Date:                          April 2000
Finish Date:                        September 2000 Base Plant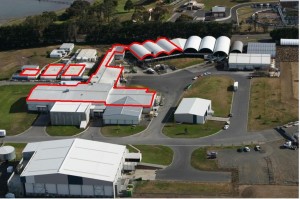 Meateng provided design and construction services for the EU standard lamb processing plant at Colac initially operating at 2,500 units per shift, and after 3 years operation at 3,600 x 2 shift.  This project included all associated carcass chilling, further processing, associated stock handling and staff facilities.  The project value was approximately $10m and constructed over 6 months from concept budget to commissioning over an approximate 4 week period.
A later extension to this plant was a remote cold storage and freezing facility, utilising a CO2 refrigeration based refrigeration, also with design, project management and commissioning by Meateng.
New Plate Freezer Facility
E C Throsby is a privately owned Australian beef processing plant situated on the outskirts of Singleton, NSW in the rural countryside of the Hunter Valley.
The plant was built in 2000, now processing 500 cattle per day with product exported to over 40 different countries.
In 2010 Meateng was engaged to design and project manage an upgrade of existing plate freezing and palletising process.
Plates removed from existing building, increased in size, installed through roof of new building, and commissioned over Christmas New Year Shutdown.
Meateng involvement included:
Development Applications/approvals
Design
Equipment Installation
Commissioning
Tendering and supplier selection
Construction overview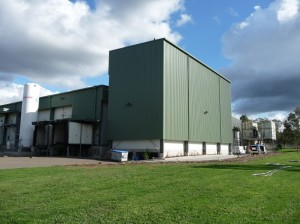 Project features include
Delivery Conveyors
Automatic Carton Sorting
Freezer Stacks
140 different product lines
4 x 990 carton capacity
Minimal labour
5-10 cartons/minute
Improved Product Quality
Fully Automated
Approximate Area: 200 m2