Meateng has been active for over thirty years as design and project management engineers for the meat processing sector.  Our work involves complete designs for greenfield facilities, as well as incremental upgrades for existing facilities.  We address the complete project scope from:  site selection, planning approvals, process design, building design, refrigeration, services, and site layout; and address all aspects from livestock receival to finished goods storage and despatch.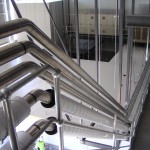 We are active in the beef, sheep, pork and smallgoods processing sectors, and a list of our experience in beef abattoirs is attached.  We predominantly operate in Australia, but also have completed projects in Botswana, Namibia, India, Malaysia and Indonesia.
Key strengths of Meateng are:
A comprehensive knowledge of the method of operation of the meat producing facility plant as a commercial entity within the World Meat Export Market.
The ability to work with, understand, and interpret the client's requirements.
A proven track record of practical meat processing plant design and construction.
An understanding of commercial meat trading.